REGARDING SHIFT PAINTINGS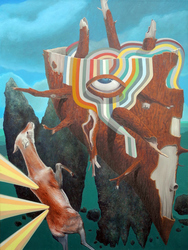 "Lombardi's Call of Nature (2015), a trip scene of a one-eyed tree and a deer..."



Bradley Rubenstein

, High Anxiety, culturecatch.com, January 14, 2016
"D. Dominick Lombardi's painting is another surreal vision of humans united with trees. In Call of Nature,(2015) a large upraised eye dominates a fragmented, dead tree stump next to a deer who is balanced in the ungainly act of either approaching the tree or lurching away, or both. While appearing comically monstrous, there is nothing very funny about this claustrophobic rock-filled barren world, the deer itself seeming to symbolize the precarious position of living in a world that is virtually upside down."
Jeanne Wilkinson

, New York's Lesley Heller Workspace, 'Shaky Ground': Seeing Nature in New Ways, ARTES magazine, February 4, 2016.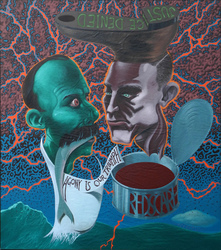 "Lombardi's "Sacco and Vanzetti" is another surreal depiction of the famous men who were wrongly executed for murder in 1927. Their faces are appropriately discolored like corpses, floating above a rough sea. Lightning runs throughout the background, reminiscent of their execution method, the electric chair."
John Paul Stapleton

, Portraits Take It From The Top, artscope, November/December, 2015.
"Equally colorful, curator, D. Dominique Lombardi, has entered himself into the mix with a piece of thought-provoking political satire, in the painting "Sacco and Vanzetti." Surely influenced by Pawel, Lombardi places pungent objects and smart wording amongst the heads of the two infamously persecuted anarchists. Conjuring lyrics of Woody Guthrie, but offering a fresh look at a timeless story, the painting is ripe with intoxicating blues, greens, and a coral-esque background ignite with a circulating grid of orange. The work boosts the idea that the head can personify an idea, not just an individual."
"Lombardi's show is a complete buffet for the eyes, offering to stimulate the pallet of many an art enthusiast. The diversity of the pieces come together nicely to strengthen the idea that the head is as limitless a symbol, as it is to us a tool."



Jillian Burkett

, A Head is not a Head, culturecatch.com, Octorber 20, 2015

"Lombardi's painting, "The Conjurer" (2014), updates this style. His surreal, loopy style of figuration feels much more contemporary. Dana Schutz and David Humphrey have explored similar themes, but Lombardi's more modest scale and genuine appreciation of illustrators like R. Crumb lends his work a sinister twist that remains with the viewer longer."